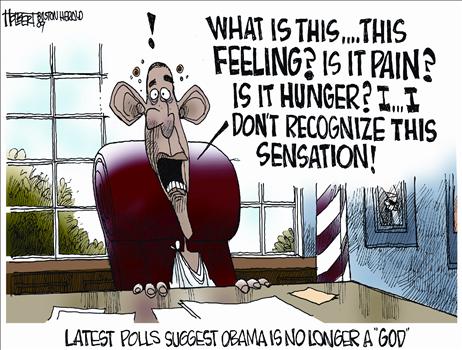 Obama's Poll numbers lowest yet recorded.
This can't be very good news for the Democrats and especially President Obama.
Today's Rasmussen poll has
only 41% of the voters strongly or somewhat approve on President Obama's performance.
Making up this number is 72% of Democrats, 15% of Republicans, and
28% of independents
. The key number here is the independents, and as Democrats look at the upcoming election, this has to be a major concern of Democrat incumbents.
http://www.rasmussenreports.com/public_content/politics/obama_administration/daily_presidential_tracking_poll
More investigations if the Repubicans take control of the House.
Representative
Darrell Issa has plans to almost double the staff of the House Oversight and Government Reform Committee
if the Republicans take control of the House and he becomes chairman of this committee.
"That will make all the difference in the world," he told 400 applauding
party members during a dinner at the chocolate-themed Hershey Lodge. "I won't
use it to have corporate America live in fear that we're going to subpoena
everything. I will use it to get the very information that today the White House is either shredding or not producing."
Read more:
http://www.politico.com/news/stories/0610/38697.html#ixzz0rDFjJVFs
More Bad News for the American Public and the Democrats should end up paying for it.

The
Coast Guard has shut down Govenor Bobby Jindal's attempt
to do something about the oil leak off Lousiana.
"The Coast Guard came and shut them down," Jindal said. "You got men on the barges in the oil, and they have been told by the Coast Guard, 'Cease and desist. Stop sucking up that oil.'"

A Coast Guard representative told ABC News today that it shares the same goal as the governor.

"We are all in this together. The enemy is the oil," said Coast Guard Lt. Cmdr. Dan Lauer.

But the Coast Guard ordered the stoppage because of reasons that Jindal found frustrating. The Coast Guard needed to confirm that there were fire extinguishers and life vests on board, and then it had trouble contacting the people who built the barges.
While this is not only frustrating, it is also an example of what you can expect as Obama's vision of America with the government controling healthcare, the banks, etc. is implemented.
Bureaucracy's life blood is regulation. But even the best regulations (ie. you should have fire extinguishers and life vest on vessels) are only applicable 80% of the time (this is an environmental emergency!!). And one thing I've learned over the years, the government does not create the "best regulations."
So the next time you here a liberal asking what the President could do in this case, it appears the best thing he could do is out of the way of others willing to do something!